Where to Ride
Where to Ride Dockless Mobility Devices
Despite being environmentally friendly and a helpful transportation option for riders, shareable e-scooters have presented municipalities with an array of problems. In cities where shareable e-scooters were distributed, citizens complained that the scooters became a nuisance on sidewalks, both when being ridden and when abandoned. Cities have experienced a rise in scooter injuries involving riders, pedestrians and motor vehicles. The root of these injuries can be traced in part to the fact that regulators and riders are unsure of whether e-scooters belong on the street or the sidewalk. Because of the sudden rise of shareable e-scooter use, municipalities were unprepared to handle that issue. On
January 15th, 2019, in response to the issues faced by other municipalities and the likelihood that e-scooters would soon arrive in South Carolina, the City Council of Columbia voted to establish a one-year moratorium on two-wheeled electric scooters. The City Council called the moratorium an "emergency" measure to protect "public peace, property, health and safety." The purpose of the moratorium was to give city officials time to "explore shared mobility options and offer opportunities for effective and meaningful collaboration with shared mobility vehicle providers." [1]
When Columbia's e-scooter moratorium ends, the city will have to determine whether to allow e-scooters on streets or sidewalks, or some combination of the two. This article will focus specifically on where e-scooter riders should be able to use the devices, and what the City of Columbia should consider when determining that issue.
The Problem:
Unsurprisingly, since shareable e-scooters were introduced in September of 2017, cities with e-scooters have experienced a large increase in scooter related injuries.
In February of 2019, Consumer Reports published an investigation into scooter accidents. By sending information requests to medical providers in cities where Bird or Lime operate, Consumer Reports was able to identify at least 1,545 e-scooter related accidents since the introduction of shareable e-scooters. Consumer Reports also claims that number is likely low, because more than half of the medical providers contacted did not yet track scooter injuries specifically. [2]
In November of 2018, after scouring news articles and contacting Trauma Centers in major cities with shareable e-scooters, CNET reported that the e-scooter accident rate may be much higher than Consumer Reports' report, estimating the rate may be as high as 1,000 per month. [3]
In response to the uptick in e-scooter injuries, and the fact that many cities are unable to track the injuries, the CDC is currently conducting an investigation to accurately find and count the number of injuries related to shareable e-scooters. Jeff Taylor of Austin Public Health, who is overseeing the CDC investigation, summed up how tangible and serious the increase in e-scooter injuries is, by stating: "This is kind of like a disease outbreak investigation — the disease in this case being injuries associated with dockless electric scooters[.]" [4] The CDC investigation is expected to be finished in April of 2019.
How are these Injuries Occurring?
As e-scooter injuries are not currently being tracked by many cities and medical providers, it is sometimes difficult to put a definite number on the circumstances and severity of the injuries. However, a study published by the Journal of the American Medical compiled data involving e-scooter injuries in Southern California. [5]
The following image shows some of the data collected by the above-mentioned study: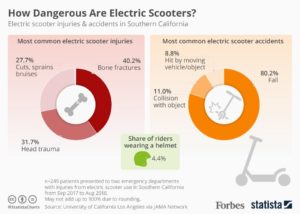 Falls: 
The study published in the Journal of the American Medical Association found that over 80% of e-scooter injuries occurred when riders fell and suffered injuries themselves. Such a high proportion of injuries occurring this way can be attributed to many factors. Due to the fact that shareable e-scooters do not belong to the riders, many riders are inexperienced and more susceptible to losing control of the scooters. That inexperience is compounded by the fact that most e-scooters are available in urban areas, which leads to more human obstacles and distractions in their path.
Collisions with Pedestrians and Objects:
Although they are typically not the ones that suffer when e-scooter injuries occur, pedestrians have been some of the loudest critics of the recent e-scooter trend. In cities that allow people to ride e-scooters on sidewalks, some pedestrians fear for their safety and have become frustrated by the nuisance that occurs when unused e-scooters are left in inconvenient places.
In San Diego, a group of residents formed a group called Safe Walkways to promote their right to "walk in safety in San Diego," despite the fact that San Diego does not allow e-scooter riders on sidewalks. Dr. Jonathan Freeman, one of Safe Walkways' members, expressed the group's frustration and safety concerns, stating "I have elderly neighbors; they tell me they don't want to walk. If they're hit by a scooter and break their hip, it's a death sentence." [6]
Last year, in fact, a seventy-five-year-old man tripped on a Bird scooter laying on the ground outside the entrance of San Diego's SDCCU stadium. The fall shattered his knee in four places, left him disabled, and forced him to relocate to an assisted-living facility. In the months following the injury, his health deteriorated rapidly, and doctors diagnosed him with cancer, which eventually took his life. [7]
Collisions with Cars:
Despite the fact that only a small amount of the injuries occurring involve cars, the consequences of such accidents are severe. In several cities, as a result of riding in streets, e-scooter riders have been struck and killed by cars. So far, deadly accidents like this have been reported in Austin, D.C., Chula Vista, Dallas, and Cleveland. [8] [9]
Where to Ride?
Cities across the country have handled this issue in different ways. Certain cities forbid riders from using the sidewalk, while others require riders to use the sidewalk. Some cities allow the rider either option, and some cities take a more nuanced approach, breaking the city up into segments where riders can and cannot ride based on the characteristics of those areas. The varying rules adopted across the country demonstrate the complexity of the issue and the fact that there is no one-size fits all solution when determining where e-scooters should be used.
The following table shows where e-scooter users are allowed to ride in cities across the country:
| | |
| --- | --- |
| Alexandria, Virginia | No riding on sidewalks. Can ride on streets or bike lanes. |
| Arlington, Virginia | No riding on sidewalks. Can ride on streets. |
| Atlanta, Georgia | No riding on sidewalks. Can ride in bike lanes or right most lanes in the street. |
| Austin, Texas | Can ride on sidewalks and bike lanes. Cannot ride on streets. |
| Charlotte, North Carolina | Riding on sidewalks allowed only in certain parts of the city. Riding in the street only if scooter meets certain braking requirements. |
| Charlottesville, North Carolina | No riding on sidewalks. Can ride on streets. |
| Cleveland, Ohio | Can ride on sidewalks, streets, and bike lanes. |
| Dallas, Texas | Cannot ride on sidewalks. Can ride on streets. |
| Denver, Colorado | Can ride in street if speed limit is under 30 mph. If no bike lane or street under 30 mph, can ride on sidewalk. |
| Fort Lauderdale, Florida | Can ride on sidewalks and bike lanes. |
| Kansas City, Missouri | Cannot ride on sidewalks. Can ride on streets. |
| Nashville, Tennessee | Cannot ride on sidewalks in business districts. |
| Portland, Oregon | Cannot ride on sidewalks. Can ride on streets and bike lanes. |
| Salt Lake City, Utah | Cannot ride on sidewalks. Must ride on street or bike lane. |
| San Antonio, Texas | Cannot ride in the street. Bike lanes must be used. If no bike lane, can ride on sidewalks. |
| San Diego, California | Cannot ride on sidewalks. Can ride on streets. |
| Santa Monica, California | Cannot ride on sidewalks. Can ride in bike lanes and on the pier and boardwalks. |
| Tacoma, Washington | Can ride on sidewalks and streets. |
When Columbia's e-scooter moratorium ends next year, the city's officials will be faced with the quandary of whether to let e-scooter riders use sidewalks at the risk of endangering and annoying pedestrians, or force them to use the streets at the risk of exposing the riders to more severe accidents.
The city can of course avoid a hardline policy, and come to a nuanced, compromised policy like several other cities have, but at the end of the day, they will have to rule on where e-scooters can be used. The following identifies and explains several considerations Columbia's officials should think about, which may help create an effective policy:
Research Comparable Cities:
Due to the moratorium, the City of Columbia hasn't had to deal firsthand with many of the issues associated with shareable e-scooters. Columbia's officials should identify cities that share certain characteristics with Columbia and currently allow e-scooters. Some of the relevant characteristics may be statistical or quantitative in nature, like traffic volume, speed limits, road size, and population. Subtle characteristics that are harder to define may also be important, like whether it is a college town in nature, or a metropolitan city center.
Columbia's officials can then look to the policies of those cities, and use data to see the results of their e-scooter street and sidewalk policies. Useful data can be obtained online, or by communicating with other cities and e-scooter providers. The following image is a sample of categorized tables found in Bird's permit application, showing the number of reported crashes, injuries, and complaints for every city they operate in:

Segment the Riding Area Based on the Chosen Policy:
Cities like Charlotte, Nashville, and San Antonio have implemented policies banning e-scooters from certain parts of their cities. Officials in Columbia should consider that option based on whether they allow e-scooters to be used on streets or sidewalks.
For example, if the City of Columbia were to force riders to only use the street, riders would be at significant risk if they were allowed to ride in high traffic areas like Assembly Street. To the contrary, if riders are forced to use the sidewalk, the city should consider mitigating the risk of harm to pedestrians by not allowing e-scooters in areas with heavy foot traffic, like Main Street.
The City of Columbia should also consider working with local universities to coordinate their riding areas and policy. When the City of Nashville introduced shareable e-scooters, they refused to allow them on sidewalks in certain districts. However, when Vanderbilt University joined the city in the pilot program, the school was allowed to have e-scooters on its campus sidewalks.
Compared to the average municipality, college campuses are relatively secluded from heavy, dangerous traffic. Students at Columbia's universities are likely to derive enjoyment and utility from shareable e-scooters, and the universities' campuses provide a unique environment where some of the risks are reduced.
If the City of Columbia chooses to segment certain areas, the policy could be enforced by Geo-fencing. Geo-fencing is a tool already used by many e-scooter providers that creates a virtual perimeter and allows the provider to limit where a device can be operated by shutting the device off or slowing it down.
Set Standards for E-scooter Providers:  
Lastly, the City of Columbia can request that e-scooter providers meet certain safety requirements that are tailored to the city's policies, in order for the provider to operate in Columbia.
Cities have leverage when dealing with e-scooter companies, and they have exercised that leverage on several occasions. In March of 2018, Bird and Lime distributed their scooters in San Francisco without obtaining permits. [10] Two months later, after considerable problems arose, and nearly 1,900 complaints were lodged, the City of San Francisco ordered the companies to collect their scooters and leave until the city issued them a permit. [11] Later that year, the City of San Francisco awarded e-scooter permits to Scoot and Skip, who were among twelve companies to submit proposals to the city. [12] The City of San Francisco was able to handpick the companies who would operate scooters in its city based on the factors it deemed important.
In April of 2018, the City of Austin impounded fifty-five Bird e-scooters to protect the public from "unsafe obstructions and other illegal activity in the public realm." City officials explained that "abandoned" scooters were subject to impoundment. [13]
In Santa Monica, the city levied a $300,000 fine against Bird for failing to obtain proper business licenses. [14]
As a result of the legal power that cities have to enforce their laws and regulations, and the e-scooter companies' incentives to obtain permits in order to operate, cities often have an opportunity to select the companies they want operating in their jurisdiction. The City of Columbia may have such an opportunity, and if so, should consider not only a company's traits and merits, but also whether the company is willing to meet the standards of the city.
Based on Columbia's chosen policy on where e-scooters can be used, there are several possible requirements which could help make the policy more effective: the city could require certain safety mechanisms be placed on the e-scooters; more safety instructions in the app before unlocking the e-scooter; require reflectors or lights; inform the rider about city-specific rules before unlocking the e-scooter; or lower the maximum speed based on where they will be riding.
Based on where riders are allowed to use e-scooters, the City of Columbia could also attempt to make e-scooter providers impose scooter hours, an idea proposed in Nashville, which would limit e-scooter use to certain times of the day. [15] This could be an effective policy if the City of Columbia chose to allow e-scooter riders in the streets, as riders wouldn't be in the streets during times of the day with low visibility and light.
Conclusion:
In order to avoid the complaints, injuries, property damage, and fatalities suffered in other cities that currently allow shareable e-scooter use, the City of Columbia must determine where riders will be able to use e-scooters in the future. Although there does not appear to be a perfect solution to this issue at this time, there are several considerations that can help decision makers create an effective policy.
Legal Language:
The following is an example of legal language which could be used to define and regulate e-scooter use, via State statute:
Electric scooter defined; riding electric scooters on sidewalks; local regulation.
(A) "Electric scooter" means a device:
(1) weighing not more than one hundred (100) pounds;
(2) designed to travel on not more than three (3) wheels in contact with the ground
(3) with handlebars and a floorboard that the rider uses to stand on the device during operation; and
(4) powered by a motor that is capable of powering the device with or without human propulsion at a speed not more than thirty (20) miles per hour on a paved level surface.
(B) It is unlawful for any person to operate an electric scooter upon any sidewalk or pedestrian walkway in this State.
(C) This article does not prevent a local authority, by ordinance, from regulating the registration of motorized scooters and the operation of motorized scooters on local streets and sidewalks, if that regulation is not in conflict with this code.
Sources:
[1] Sarah Ellis, It's official: Columbia bans electric scooters for 1 year, The State (January 15, 2019), https://www.thestate.com/news/local/article224573320.html
[2] Ryan Felton, E-Scooter Ride-Share Industry Leaves Injuries and Angered Cities in its Path, Consumer Reports (February 5, 2019), https://www.consumerreports.org/product-safety/e-scooter-ride-share-industry-leaves-injuries-and-angered-cities-in-its-path/
[3] Dara Kerr, Electric scooters are now disrupting wrists, elbows and heads, CNET (November 28, 2018), https://www.cnet.com/news/electric-scooters-by-bird-and-lime-are-causing-injuries-and-accidents/
[4] Luz Lazo, The CDC is studying e-scooter injuries, The Washington Post (March 15, 2019), https://www.washingtonpost.com/transportation/2019/03/15/cdc-is-studying-e-scooter-injuries/?noredirect=on&utm_term=.08640b66c2ba
[5] Trivedi TK, Liu C, Antonio ALM, et al. Injuries Associated With Standing Electric Scooter Use. JAMA Netw Open. 2019;2(1):e187381. doi:10.1001/jamanetworkopen.2018.7381
[6] KUSI Newsroom, Citizen group promoting sage walkways, KUSI News (February 12, 2019), https://www.kusi.com/citizen-group-promoting-safe-walkways/
[7] Peter Holley, Pedestrians and e-scoters are clashing in the struggle for sidewalk space, The Washington Post (January 11, 2019), https://www.washingtonpost.com/business/economy/pedestrians-and-e-scooters-are-clashing-in-the-struggle-for-sidewalk-space/2019/01/11/4ccc60b0-0ebe-11e9-831f-3aa2c2be4cbd_story.html?utm_term=.d75e08e6da75
[8] Jane Morice, Woman riding electric scooter hit by car, killed in downtown Cleveland, Cleveland.com (August 19, 2018), https://www.cleveland.com/metro/2018/08/woman_riding_electric_scooter.html
[9] Cindy Widner, Austin electric-scooter death sheds light on injury reporting, Curbed Austin (February 11, 2019), https://austin.curbed.com/2019/2/6/18214119/austin-electric-scooter-death-fatalities-injuries
[10] Dara Kerr, San Francisco says goodbye to electric scooters, for now, CNET (May 25, 2018), https://www.cnet.com/news/san-francisco-scooter-law-means-goodbye-to-electric-scooters-for-now/
[11] Aria Bendix, Toppled scooters, sidewalk riding, and illegal parking: Electric scooters have returned to San Francisco after being banned, Business Insider (October 16, 2018), https://www.businessinsider.com/electric-scooters-return-to-san-francisco-after-a-citywide-ban-2018-10
[12] Aarian Marshall, SF is Bringing Back Banned Electric Scooters- with Limits, Wired (August 30, 2018), https://www.wired.com/story/san-francisco-santa-monica-e-scooter-permits/
[13] Candy Rodriguez, City of Austin impounds 55 dockless electric scooters this month, KXAN (April 14, 2018), https://www.kxan.com/news/local/austin/city-of-austin-impounds-55-dockless-electric-scooters-this-month/1120721658
[14] Melissa Etehad, Bird scooter firm settles legal fight with Santa Monica, L.A. Times (February 15, 2018), https://www.latimes.com/local/lanow/la-me-ln-bird-scooters-20180215-story.html
[15] Yihyun Jeong, Nashville could fine bad parking, limit electric hours, Tennessean (February 14, 2019)