Age Minimums
Why regulate age minimums? 
          E-scooter companies have age minimums in place, yet underage riders have been frequently reported in locales that have E-scooters.
The JAMA Network academic study on E-scooter injuries found that 10.8% of injured riders analyzed were under 18 years old, the minimum age permitted by private E-Scooter companies in California.[1] Additionally, Fort Lauderdale city commissioners have complained that many underage children ride using their parents' accounts.[2]
Some of the popular reasons that underage riders are choosing to use E-scooters are cheap cost, convenience, and fun.[3] E-scooters typically cost just $1 to unlock, charge 15 cents for each minute of riding, and do not require riders to pay for insurance.[4] They are also convenient because their size and mobility allows you to more easily avoid sitting in traffic.[5] Underage riders think riding E-scooters is fun, evidenced by comments such as "you look pretty cool" (on an E-scooter) and "you can tell people are looking at you, but it makes you feel different."[6] Max Gorman, an underage E-scooter rider in Washington, D.C., boasts about pushing E-scooters past their intended speed limits when going down hills.[7] "You can get up to 25(mph)," Gorman said.[8] "You get a major adrenaline rush. That you can go about as fast as a car on the road is an exhilarating feeling," said Ashton, another underage E-scooter rider in Washington, D.C.[9]
Possible Approaches for Governments
          When evaluating age minimums for E-scooters, governments should be familiar with each E-scooter company's age minimum policies and consider whether they want to impose additional safety requirements regarding rider age.
E-scooter Company Requirements
            E-scooter companies require users to agree to terms of service certifying that they are at least 18 years old and most require users to upload a photo of a driver's license and scan the barcode on the back.[10] Despite these requirements, E-scooter companies' systems for verifying age can be beaten.[11] As has been reported in Fort Lauderdale, underage riders can use their parents information to register with an E-scooter company.[12] Riders have also been able to use Lime E-scooters without uploading their license.[13] Curbed tested the age minimum validation process for Bird and Lime with an expired California driver's license and a California non-driving identification card and both worked to unlock E-scooters.[14]
If governments are interested in approaching age minimums for E-scooters using existing E-scooter company policies but have concerns about effectiveness, they could demand better verification procedures as a prerequisite for a permit to operate in the locale.
Increase Education to Youth
            Governments can look at Arlington, Texas for an example of taking the approach to educate the local youth about the dangers and consequences of underage riding. Arlington county commuter services bureau chief Jim Larsen and his staff have been working with E-scooter companies, county police, school officials and parents on educating kids that they should stay off E-scooters.[15] Larsen theorizes that parents are either unaware of the ban on young riders, and could be giving kids permission to use E-scooters, or that teens have simply figured out ways to "hack the apps."[16] Despite the emphasis on public education, Larsen noted one issue with enforcing age minimums for E-scooters is that when a police officer or teacher catches an underage rider on a scooter, there's not much they can do about it.[17] This is because Texas state law actually allows anyone 14 or over to ride a motorized scooter, though the definition of what constitutes a scooter has certainly changed drastically since the law was written.[18] "The commonwealth has a lot of work to do to bring their regulatory scheme forward a number of years," said County Manager Mark Schwartz. "I won't say what century it's in."[19]
CONCLUSION
            Locales with E-scooter deployments have reported issues with underage riders on E-scooters. To address this issue, governments interested in bringing E-scooters to their locale should be familiar with E-scooter companies' age minimum policies and decide if they want to take additional action to enforce age minimums for E-scooters.
[1] See Trivedi TK, Liu C, Antonio ALM, et al., supra note 1.
[2] See Brittany Wallman, E-scooters are here to stay in Fort Lauderdale, The Sun Sentinel (Feb. 5, 2019, 8:30pm EST), https://www.sun-sentinel.com/local/broward/fort-lauderdale/fl-ne-fort-lauderdale-electric-scooters-20190205-story.html.
[3] See Will Kubzansky, The Secret Life of Teen Scooter Outlaws, The Verge (Sept. 23, 2018, 12:00om EST), https://www.theverge.com/2018/9/23/17882996/teens-electric-scooter-age-requirement-bird-lime.
[4] See Id.
[5] See Id.
[6] See Id.
[7] See Id.
[8] See Id.
[9] See Id.
[10] See Alissa Walker and Jenna Chandler, Kids love e-scooters – why aren't they allowed to ride them?, Curbed (Sept. 27, 2018, 2:17pm PDT), https://la.curbed.com/2018/9/27/17898356/scooters-bird-lime-age-requirement-license.
[11] See Id.
[12] See Wallman, supra note 119.
[13] See Walker and Chandler, supra note 127.
[14] See Id.
[15] See Alex Koma, County Officials Wrestle With Legal Strategies to Keep Young Riders Off Dockless Scooters, Arlington Now (Nov. 29. 2018, 9:45am EST), https://www.arlnow.com/2018/11/29/county-officials-wrestle-with-the-best-way-to-keep-young-riders-off-dockless-scooters/.
[16] See Id.
[17] See Id.
[18] See Id.
[19] See Id.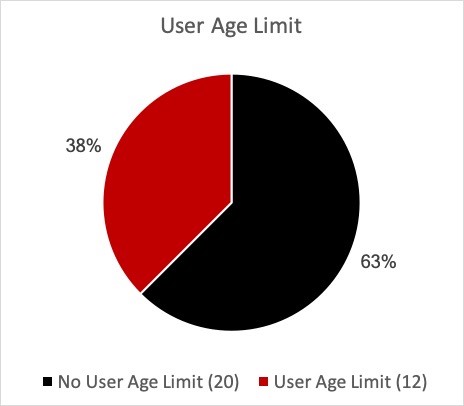 | | | | |
| --- | --- | --- | --- |
| City* | Helmet | Speed Limit | Age Limit |
| Austin, Texas | yes* | yes | |
| Alexandria, Virginia | | yes | |
| Atlanta, Georgia | | yes | |
| Athens, Georgia* | | | |
| Arlington, Virginia | | yes | yes |
| Baltimore, Maryland | yes* | yes | yes |
| Boise, Idaho | | | |
| Charlotte, North Carolina | yes* | yes | yes |
| Charlottesville, Virginia | yes* | yes | |
| Cincinnati, Ohio | | | |
| Columbus, Ohio | | yes | |
| Dallas, Texas | yes* | | |
| Denver, Colorado | | | |
| Detroit, Michigan | yes* | yes | yes |
| Durham, North Carolina | yes | yes | yes |
| Fort Lauderdale, Florida | yes* | yes | |
| Greensboro, North Carolina | | yes | yes |
| Indianapolis, Indiana | | yes | yes |
| Long Beach, California | yes | yes | yes |
| Los Angeles, California | yes | yes | yes |
| Louisville, Kentucky | | yes | |
| Memphis, Tennessee | | | |
| Nashville, Tennessee | | yes | yes |
| Oakland, California | yes* | | |
| Oklahoma City, Oklahoma | | | |
| Orlando, Florida | yes* | | |
| Portland, Oregon | yes | yes | |
| San Antonio, Texas | | yes | yes |
| San Jose, California | | yes | |
| Santa Monica, California | yes | yes | |
| Tempe, Arizona | | yes | |
| Washington, D.C. | | | yes |
ü* Indicates age restriction on Helmet Requirement
*This is a sample of cities, selected because of their readily available regulations and ordinances. In no way is this list meant to be exclusive.